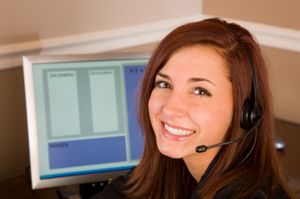 We look for many qualities in the individuals we hire -- the ability to communicate effectively, a high level of organization, strong interpersonal skills, and so on.
Regardless of an applicant's qualifications, we always look for one attribute in particular -a POSITIVE ATTITUDE along with the desire to provide high quality products with excellent customer service. We can train people how to work with clients or run pieces of equipment, but to have passion for customer service and pride for your work takes a unique individual.
If these are qualities you possess, we're sure you'll find a rewarding career with us. We supply our team with the latest technology, afford them the best training available, and provide every opportunity for growth within our company.
Employee Benefits
Creative Labels Inc. offers paid holidays and vacation time, as well as health benefits and 401k plans to all our employees.
Current Openings
Thank you for expressing interest in a career with us..
Graphic ArtistCreative Labels has an immediate opening for a Part Time graphic Artist. This person will work approximately 20 hour per week, but may need to work more occasionally during vacations and such. We here at Creative Labels primarily work in Adobe Illustrator and Adobe Photoshop on Macintosh Computers, but also deal with these same products on PC's. The job will consist of some new graphic layout with and a lot of adjusting of customer supplied artwork. There will be training on our imagesetter and Rip, along with the film processor. This position may have a possibility of working into a fulltime position.
The applicant must have some working knowledge of Graphic Illustration products. Any printing backgrounds a plus.

Contact: Chris Martin

Outside Sales Creative Labels is currently looking to bring another qualified outside sales representative aboard. We are looking for a motivated self-starter with a sales background, preferably with label experience and customers. We have the capacity to more than double or volume with ease, and produce the kind of work you will be proud to sell.

Night Shift – Day Shift
This person will be responsible for rewinding and inspecting finished labels in the fastest manner possible. Maintaining the estimated production times is critical.

Creative Labels is looking for someone to manage the warehouse. This person will control the inventory. He or She will deal with incoming and outgoing shipments including driving of the forklift. This person will also need to be able to handle and move rolls of paper 50lbs and more. Some equipment is available to assist some of this job.