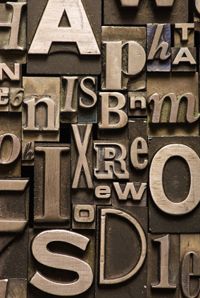 We take great pride in making our clients feel confident about their jobs during the production process. To help you gain a better understanding of what's happening to your project, we've compiled a glossary of terms that we commonly use in our industry.
Adhesion

A measurement of the force required to remove a label from a substrate. Several test methods normally characterize this force at various time intervals.

Adhesive

A substance capable of holding materials together by surface attatchment.

Adhesive Failure

A partial or total lifting of the label from the substrate.

Adhesive, Cold Temperature

An adhesive that will enable a PS label to adhere when applied to refrigerated frozen substrates, generally + 35 degrees F or colder

Adhesive, High Temperature:

An adhesive that will enable a PS label to withstand sustained elevated temperature (+200 degrees F or higher).

Adhesive, Permanent:

A PS adhesive characterized by having relatively high ultimate adhesion. The label either cannot be removed intact or requires a great deal of force to be removed.

Adhesive, Removable:

A PS adhesive characterized by low ultimate adhesion. The label can be removed from most substrates without damaging the surface or leaving a residue surface or leaving a residue or stain

Ambient Temperature:

Normal fluctuating temperatures in an environment which are not closely controlled, e.g. in a typical warehouse, boxcar, office building, etc

Application Temperature:

Temperature of a substrate or label material at the time the label will be applied. Most adhesives have a minimum application temperature rating. Testing is recommended when approaching minimum application temperature.

Art Work

Any materials or images that are prepared for graphic reproduction.

Author's Alterations (AA's)

Changes made after composition stage where customer is responsible for additional charges.

Backing

Refers to the carrier sheet of material in a pressure snsitive lamination as opposed to the face material. Usually has a release coating applied so that the adhesive will not stick too tightly to it. Release liner, backing paper, carrier, etc.

Barrier Coat

A coating that is applied onto the non-printing side of paper to add to the opacity of that paper. Reference, opacity.

Bearer

Type-high supports mounted or molded around each side of the printing plate to help carry part of the impression load and to help prevent bounce. Also the load bearing surface(s) of a rotary die.

Biax

Biaxially-oriented material, that is, oriented in the machine and transverse directions.

Bleed

Extra ink area that crosses trim line, used to allow for variations that occur when the reproduction is trimmed or die-cut.

Body Size

The point size of a particular type character.

Bond:

The adhesion of a pressure-sensitive adhesive tape to the surface to which it has been applied.

Bullet

A boldface square or dot used before a sentence to emphasize its importance.

Butt Cut labels

Rectangular labels in continuous form separated by a single knife cut to the liner across the web.

Caliper

The measurement of thickness of paper expressed in thousandths of an inch or mils.

Camera Ready

A term given to any copy, artwork etc., that is prepared for photographic reproduction.

Caps & Lower Case

Instructions in the typesetting process that indicate the use of a capital letter to start a sentence and the rest of the letters in lower case.

Cast Coated

A paper that is coated and then pressure dried using a polished roller which imparts an enamel like hard gloss finish.

Clear Coat:

A coating that protects the printing and the surface of a pressure-sensitive label from abrasion, sunlight, chemicals, moisture, or a combination of these.

Coated Stock

Any paper that has a mineral coating applied after the paper is made, giving the paper a smoother finish.

Cold Color

Any color that moves toward the blue side in the color spectrum.

Color Bars

This term refers to a color test strip, which is printed on the waste portion of a press sheet. It is a standardized (GATF-Graphic Arts Technical Foundation) process which allows a pressman to determine the quality of the printed material relative to ink density, registration, and dot gain. It also includes the Star Target, which is a similar system designed to detect inking problems.

Color Seperation:

In photography, the process of separating color originals into the primary printing color components in negative or positive form. In lithographic platemaking, the manual separation of colors by handwork performed directly on the printing surface. An artist can pre-separate by using separate overlays for each other.

Color Strength

A term referring to the relative amount of pigmentation in an ink.

Color Transparency

Transparent film containing a positive photographic color image.

Condensed Type

A narrow, elongated type face.

Continuous Tone

Image made of non-discernable picture elements which give appearance of continuous spectrum of grey values or tones.

Contrast

The degree of tonal separation or gradation in the range from black to white.

Coupon Base:

A splittable film product with adhesive and protective liner. When used in combination with another pressure-sensitive coated facestock affords the label converter the capability of manufacturing on press a redemption coupon that has a lift tab and is printed on both sides. A clear film remains on the labeled item after the coupon has been removed.

Crop

To eliminate a portion of the art or copy as indicated by crop marks.

Crop Mark

Markings at edges of original or on guide sheet to indicate the area desired in reproduction with negative or plate trimmed (cropped) at the markings.

Curl

The tendency of material by itself or in a laminate to bend or partly wrap around the axis of one of its directions. Curl is often caused by humidity or improper tension. The concave side is the curl side.

Delete

An instruction given to remove an element from a layout.

Densitometer

An optical device used by printers and photographers to measure and control the density of color.

Density

The degree of tone, weight of darkness or color within a photo or reproduction; measurable by the densitometer. Reference, densitometer.

Die Cut Label:

Pressure-sensitive labels mounted on a release liner from which the matrix has been removed.

Die Cut:

The line of severance between a pressure-sensitive label and its matrix or adjoining label made by the cutting edge of a die.

Die:

Any of a variety of tools or devices used for cutting material to a desired shape.

Digital Proof

Color separation data is digitally stored and then exposed to color photographic paper creating a picture of the final product before it is actually printed.

Doctor Blade

A term in gravure printing which refers to the knife-edge that runs along the printing cylinder; its function is to wipe the excess ink away from the non-printing areas.

Dot

The smallest individual element of a halftone.

Dot Gain

Darkening of halftone image due to ink absorption in paper causing halftone dots to enlarge. Terms to describe the occurrence whereby dots are printing larger than they should.

Drop Shadow

A shadow image placed strategically behind an image to create the affect of the image lifting off the page.

Dull Finish

Any matte finished paper.

Duotone

Color reproduction from monochrome original. Keyplate usually printed in dark color for detail, second plate printed in light flat tints. A two-color halftone reproduction generated from a one-color photo.

Edge Lift:

The tendency of the edge of a label to rise off the surface of the substrate. This condition occurs most frequently on small diameter curved surfaces. Resistance to edge life is dependent on the bond strength of the adhesive and the flexibility of the facestock.

Electronic Data Processing ( EDP )

Data processing by electronic equipment. Pressure sensitive labels produced for imprinting on this equipment incorporate line hole punching and perforations.

Electronic Proof

A process of generating a prepress proof in which paper is electronically exposed to the color separation negatives; the paper is passed through the electrically charged pigmented toners, which adhere electrostatically, resulting in the finished proof.

Elliptical Dot

Halftone screens in which the dots are actually elongated to produce improved middle tones.

Embossed

A method of paper finishing whereby a pattern is pressed into the paper when it is dry.

Embossing

To raise in relief a design or letters already printed on card stock or heavy paper by an uninked block or die. In rubber and plastic plate making the process is usually done by heat.

Embossing:

Impressing an image in relief to achieve a raised surface; either overprinting or on blank paper (called blind embossing).

Emulsion

A light sensitive substance used as a coating for film; made from a silver halide compound. This side should face the lens when the film is exposed.

Estimate

The form used by the printer to calculate the project for the print buyer. This form contains the basic parameters of the project including size, quantity, colors, bleeds, photos etc.

Estimator

One who computes or approximates the cost of work to be done on which quotation may be based.

Exposure

That stage of the photographic process where the image is produced on the light sensitive coating.

Exposure Temperature:

The temperature that a labeled product is exposed to.

Extender

A white pigment added to a colored pigment to reduce its intensity and improve its working qualities.

F.O.B.:

Free on board. Indicates that a quoted price includes loading on a railroad car or truck at the designated point, but no further transportation cost are included.

FDA:

Food and Drug Administration. Regulations for PS applications apply to the following area: Adhesives: (1) Direct food contact, such as labeling of fruit and vegetable with an edible skin (175.125); (2) Indirect food contact, where incidental between an adhesive and a food may be possible (175.105). Facestocks: (1) Contact between paper and dry foods (175.180); (2) Contact between paper and aqueous and/or fatty foods (176.170).

Face Material:

Any material, including paper, film, fabric, laminated or solid foil, suitable for converting into PS label stock.

Facestock:

Any material, including paper, film, fabric, laminated or solid foil, suitable for converting into PS label stock.

Fan Fold:

Zig-zag fold. The put-up of pressure-sensitive labels on a continuous backing in such a way as to form a flat pack as different from roll form.

Fat Face

Type that is quite varied in its use of very thin and very wide strokes.

Filling In

A fault in printing where the ink fills in the fine line or halftone dot areas.

Films:

polyester, polyethylene vinyls and other polymeric. Face material manufacturing from synthetic high molecular weight polymers.

Finish

The surface quality of paper.

Finish (Paper)

Dull - (low gloss) also matte or matte gloss.

Finish:

The surface property of a film determined by its texture and gloss. A gloss finish, for example, can be shiny and highly reflective, while a matte finish is generally dull and reflects little light.

Fish Eye:

Round or oval deformation in an adhesive, coating, or ink.

Fit

The registration of items within a given page.

Flame Retardant:

A material that resists burning when exposed to a flame.

Flash Point

A term given to the lowest temperature of ignitibility of vapors given off by a substance.

Fluid Ink

Also called liquid ink; ink with a low viscosity.

Foils

Papers that have a surface resembling metal.

Font

The characters which make up a complete typeface and size.

Food Contact Adhesives:

Adhesives meeting specified sections of the Food & Drug Administration Code of Federal Regulations. These regulations cover direct food labeling as well as incidental contact. Special product recommendation are necessary for specific applications.

Fugitive inks

Colors that lose tone and permanency when exposed to light.

Fuzz

A term for the fibers that project from the paper surface.

Graduated Screen

An area of image where halftone dots range continuously from one density to another.

Grain

Direction of fibers in a sheet of paper governing paper properties such as increased size changes with relative humidity, across the grain, and better folding properties along the grain.

Grain:

The machine direction of paper as opposed to the cross direction. Also, a measurement of pressure-sensitive adhesive on a given area.

Hairline register

Printing registration that lies within the range of plus or minus one half row of dots. It is the thinnest of the standard printers' rules.

Halftone

Tone graduated image composed of varying sized dots or lines, with equidistant centers.

Halftone Screen

A sheet of film or glass containing ruled right-angled lines, used to translate the full tone of a photo to the halftone dot image required for printing.

Hard Dot

The effect in a photograph where a dot has such a small degree of halation that the dot shows quite sharp.

Haze:

A degree of cloudiness in a plastic material.

Hickies

Imperfections in presswork due to dirt on press, trapping errors, etc.

High Temperature Adhesive:

An adhesive that will enable a pressure-sensitive label to adhere or stick well when applied to a hot substrate and has a high degree of resistance to aging or deterioration at elevated temperatures.

Highlight Dot

The highest density of a halftone image.

Highlights

The lightest tones of a photo, printed halftone or illustration. In the finished halftone, these highlights are represented by the finest dots.

Hot Melt:

A pressure-sensitive adhesive applied to the liner or backing in a hot molten form which cools to form a conventional pressure-sensitive adhesive.

Image Area

That portion of the printing plate that carries the ink and prints on paper.

Image Setter

High resolution, large format device for producing film from electronically generated page layouts.

Impression

Product resulting from one cycle of printing machine. The pressure of the image carrier, whether it be the type, plate or blanket, when it contacts the paper.

Ink Holdout

A quality of paper to be resistant to ink absorption, allowing the ink to dry on the paper surface.

Iridescent Paper

A coated stock finished in mother-of-pearl.

Italic

Text that is used to denote emphasis by slanting the type body forward.

Job Number

A number assigned to a printing project used for record keeping and job tracking. Also used to retrieve old jobs for reprints or reworking by customer.

Keyline

Lines that are drawn on artwork that indicate the exact placement, shape and size of elements including halftones, illustrations etc.

Kiss Impression

A delicate printed impression, just heavy enough to be seen.

Letterspacing

The addition of space between typeset letters.

Line Copy

Any copy that can be reproduced without the use of halftone screens.

Logotype

A personalized type or design symbol for a company or product.

Machine Coated

Paper that has had a coating applied to either one or two of its sides during the papermaking process.

Machine Direction

An alternate term for grain direction.

Machine Finish

A paper finish that results from the interaction of the paper with the Fourdrinier process as opposed to post machine embossing. Reference, Fourdrinier

Make Rready

Process of adjusting final plate on the press to fine tune or modify plate surface.

Mark-up

To write up instructions, as on a dummy.

Mask (1)

The blocking out of a portion of the printing plate during the exposure process.

Match Print

Photographic proof made from all color flats and form composite proof showing color quality as well as accuracy, layout, and imposition before plates are made.

Matte Finish

A coated paper finish that goes through minimal calendaring. Reference, calendaring.

Mechanical

A term used to describe finished artwork that is camera ready for reproduction, including all type, photos, illustrations etc.

Midtone Dot

Commonly taken as the area between highlight and shadow area of a subject's face in halftone image.

Moire

An undesirable halftone pattern produced by the incorrect angles of overprinting halftone screens.

Mottle

A term used to describe spotty or uneven ink absorption.

Negative

Film that contains the same images as the original print, except that all colors and shades are reversed. Reference, positive.

Negative:

Film negatives consisting of line and halftone copy which are used to make plates for printing.

Nominal Weight

When the basis weight of paper differs from the actual weight, the term nominal weight is used.

Offset

The most commonly used printing method, whereby the printed material does not receive the ink directly from the printing plate but from an intermediary cylinder called a blanket which receives the ink from the plate and transfers it to the paper.

Offset Gravure

A complex offset process involving multiple transfers between the gravure plate, the plate cylinder and a solid rubber plate.

Offset Lithography

Indirect printing method in which the inked image on the press-plate is first printed onto a rubber blanket, then in turn offsets the inked impression on to the sheet of paper.

Opaque

A quality of paper that allows relatively little light to pass through.

Opaque Ink

Ink that completely covers any ink under itself.

Overprinting

Any printing that is done on an area that has already been printed.

PLate Roll:

The support onto which printing plates is fixed.

PMT

Photomechanical transfer.

Perf Marks

Markings usually dotted lines at edges showing where perforations should occur.

Perforating

Punching small holes or slits in a sheet of paper or cardboard to facilitate tearing along a desired line.

Photostat

A photographic print creating an image using photography and electrostatic processes; also called a stat.

Pica

Standard of measurement, 1/6 inch. 1 pica = 12 points 72 points = 1 inch

Picking (1)

When the tack of ink is stronger than the surface strength of the paper, some lifting of the paper surface occurs; this is referred to as picking.

Pinholing

Failure of printed ink to form a completely continuous film, visible in the form of small holes in the printed areas.

Plate

Reproduction of type or cuts in metal, plastic, rubber, or other material, to form a plate bearing a relief, planographic or intaglio printing surface.

Plate Cylinder

The cylinder on a printing press on which the plate is mounted.

Platemaking

Making a printing plate from a film or flat including preparation of the plate surface, sensitizing, exposing through the flat, developing or processing, and finishing.

Positive

Film that contains an image with the same tonal values as the original; opposite of a negative.

Press-Proof

Actual press sheet to show image, tone values and colors as well as imposition of frame or press-plate.

Primary Colors

In printing the four primary colors are cyan (blue), magenta (red), yellow and black.

Printability

The quality of papers to show reproduced printed images.

Process Inks

Printing inks, usually in sets of four colors. The most frequent combination is yellow, magenta, cyan, and black, which are printed, one over another in that order, to obtain a colored print with the desired hues, whites, blacks, and grays.

Process Printing

Printing from two or more half tones to produce intermediate colors and shades.

Register

The arrangement of two or more images in exact alignment with each other.

Register Marks

Any crossmarks or other symbols used on layout to assure proper registration.

Roll To Roll

A web press printing process where the roll of paper is printed and stored on a roll to be shipped.

Runability

A term used to describe how well a paper runs on a printing press.

Score

Impressions or cuts in flat material to facilitate bending or tearing.

Screen Angles

The placement of halftone screens to avoid unwanted moire patterns. Frequently used angles are black 45deg, magenta 75deg, yellow 90deg, and cyan 105deg.

Screen Ruling

A measurement equaling the number of lines or dots per inch on a halftone screen.

Slitting

A term to describe the process of cutting of printed sheets by the cutting wheels of a printing press.

Smoothness

That quality of paper defined by its levelness which allows for pressure consistency in printing, assuring uniformity of print.

Soft Dot

An excessively large halo around a dot in a photograph that causes a fringe that diminishes the dot intensity.

Spot Color

Small area printed in a second color.

Stability

The quality of paper to maintain its original size when it undergoes pressure and moisture changes.

Static Neutralizer

A device on a printing press that minimizes the amount of static build up on paper as it passes through the press.

Step And Repeat

A process of generating multiple exposures by taking an image and stepping it according to a predetermined layout.

Stet

A proofreader's symbol that is usually written in the copy margin, that indicates that the copy, which was marked for correction, should be left as it was.

Stock

A term for unprinted paper or other material to be printed.

Synthetic Papers

Any petroleum based waterproof papers with a high tensile strength.

Tack

The adhesive quality of inks.

Tag

A dense, strong paper stock.

Tensile Strength

A paper's ability to withstand pressure.

Tint

A halftone screen that contains all the same sized dots.

Titanium Oxide

A bright white pigment (opaque) used for printing on metal and flexible packaging.

Transparent

Inks that do not block out the colored inks that they print over, but instead blend with them to create intermediate colors.

Trapping

The process of printing wet ink over printed ink which may be wet or dry.

Varnish

A clear shiny ink used to add gloss to printed pieces. The primary component of the ink vehicle. Reference, vehicle.

Vehicle

A combination of varnish, waxes, dryers etc., that contain the pigment of inks and control the flow, the drying and the adhesion of the pigments to the printed surface.

Washup

The procedure of cleaning a particular ink from all of the printing elements (rollers, plate, ink fountain etc.) of a press.

Watermark

A translucent logo that is embossed during the papermaking process while the paper slurry is on the dandy roll. Reference, dandy roll

Web

The roll of paper that is used in web or rotary printing.

Web Break

A tear in a web roll during the printing process.

Web Press

Cylinder printing machine in which the paper is fed from a continuous reel, as opposed to sheet fed.

Web Tension

The term given to the tension or pull exerted by the web press on the web roll.

Wet Trapping

The ability of an ink film to accept subsequent ink films.