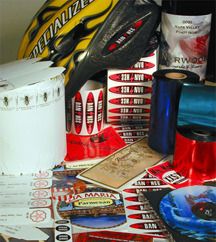 When it comes to capabilities, we have a wide variety of services to offer you. Besides printing with an UNLIMITED number of colors, producing four color process labels printed at 200 line and above, we can handle from simple to highly technical label applications.
Specialty die-cutting with or without print on various materials is an area of growth we have expanded into along with flexible packaging film applications as well.
We can also supply you with thermal transfer ribbons, label dispensers, thermal transfer printers and accessories. To see for yourself, view our Product Gallery!
We take the time it takes to identify your needs and give you the right product for the job. But that's only the beginning.
To learn more about the many products and services we offer, please contact us TOLL FREE 866-552-2357, or e-mail us at labels@creativelabels.com
---
---
Labels, Tags, Die Cutting & Printer Products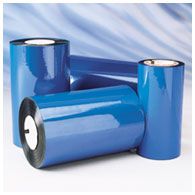 When you ask for Sony thermal transfer ribbons by name, you eliminate your risk of ribbon failure. The Sony signature is your guarantee of high-quality ribbon performance. Our complete line makes it easy to choose a ribbon that can handle just about any barcode or variable information challenge you throw at it.
- Well-suited for automotive, healthcare, electronics, chemical and other applications
- Offers enhanced durability and readability
- Long-term protection against chemicals, solvents and UV rays
Services
Barcode Verification & Printing

Barcodes are only useful if they scan and many that are printed are not verified. We scan your barcodes to make sure you get what you need the first time.
We can also print variable barcode information for you with our On Demand Service

Embossing

Embossing adds dimension to your label and gives it a high end appearance. It is a subtle way to add class and make your product stand out. In higher volume especially, rotary embossing is more cost effective.

Foil Printing

Our process in Cold Foil which is much more economical in higher volume than Hot Stamp foil printing. Hot foil may be soon added to our capabilities too.

JIT Inventory Program

"Just In Time" can be achieved easily. With your agreement to purchase up to 10% over and above what we ship you within a six month period, we will carry your labels on our floor for immediate release if you need them. Usually a new order is being processed at the same time for additional quantities and that unit cost is used for billing.

Lamination

Lamination adds durability to your product. It is available in glossy clear, transparent matte, a satin finish, or a textured finish. It can be applied to the whole product or part of the product in some applications. Other options are Aqueous or UV topcoats, but they do not add the durability of lamination.

Numbering

Sequentially numbering with or without barcodes can be done with any size numbers you wish. They can also be done in a variety of type fonts too to give you exactly what you want.

Projected Order Program

A "Friendly Reminder" will be sent to you when our records show it is time to REORDER. You may reply with your order information, request another reminder in a few weeks, request another price break, or instruct us to make changes on your next order. This can be e-mailed to you or faxed...you decide.

R & D Support

For prototypes, testing, or marketing samples, we can furnish you with as few as one printed or uniquely diecut label. Let us help you in the design stage.

Re-registration

With our NEW Re-register Unit, we can run UNLIMITED color! We can also re-register to add lamination, embossing, or to register two products together. We are still exploring the possibilities!

Special Packaging

We want it your way! If you have special needs, let us know.

Specialty Coatings

We have available Static Disipative, laser imprintable, thermal transfer imprintable, Gloss and Matte UV and others. They can be applied to either the whole product or in specific areas only.